Belt and Road Initiative offers more opportunities for students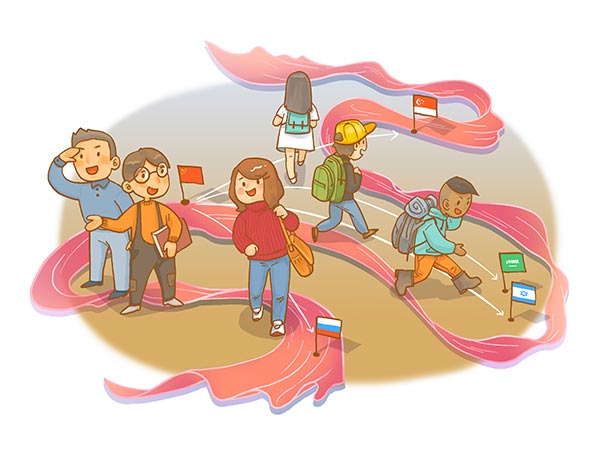 [Liang Luwen/For China Daily]
When many Chinese college graduates prepared to apply to major Western colleges this year, Zhejiang University senior Xu Mengmeng opted to take a different approach.
Xu, who originally comes from Henan province, hopes to enroll in the King Abdullah University of Science & Technology, a Saudi Arabian institution in one of the Belt and Road Initiative countries.
The 22-year-old optoelectronic science-and-technology major is a visiting student completing his graduation project on underwater stereo-camera systems at the KAUST.
He receives a $1,000 monthly stipend, free accommodation in a small, seaside villa and medical insurance from the university.
On weekdays, Xu works on his research project, measuring the size of sharks in the Red Sea. The research resources of the school's marine science department help him work faster. He has also teamed up with a group of students to classify underwater species.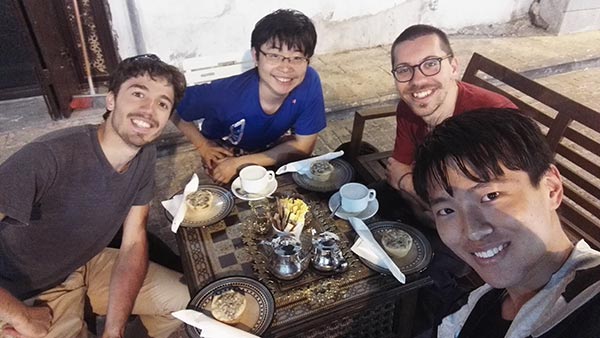 Xu Mengmeng (right) socializes with international students, while studying at the King Abdullah University of Science & Technology in Jeddah, Saudi Arabia. [Photo provided to China Daily]
He enjoys going to the beach with friends during his spare time. He wears a kaffiyeh, an Arab headdress, and robes as he tours the city to experience the local culture.
Despite the hot weather and language barrier, Xu is eager to pursue graduate studies in computational photography at the KAUST.
In addition to the high-quality research equipment, he also appreciates the chance to attend regular lectures by distinguished guest speakers.
Xu's decision to apply at an Arab university is by no means unconventional.
Since the Belt and Road Initiative was proposed in 2013, China's Ministry of Education has inked more than 60 deals with participating countries.
Chinese students have been encouraged to join exchange programs, participate in social events and attend universities in these countries.
This year's China International Education Exhibition Tour was held in Beijing, Shanghai, Guangzhou and four other cities between March 25 and April 9.
It highlighted 23 schools from Belt and Road countries like Singapore and Russia among the nearly 250 educational institutions that participated. United Arab Emirates had a team from seven institutions attending.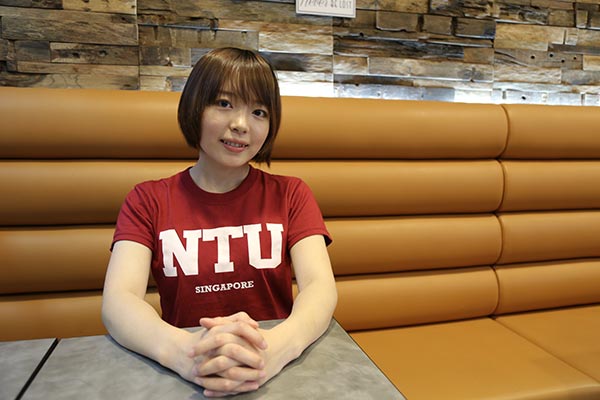 Zhao Qinmei [Photo provided to China Daily]
World-class education
As one of the pivotal countries in building the 21st Century Maritime Silk Road, Singapore stands out for its world-class public education and university system.
Like many local students who have enough time and freedom to decide on their areas of specialization, 22-year-old Wuhan resident Zhao Qinmei spent her first two years at Nanyang Technological University to explore her academic interests.
Zhao found her passion in data processing and analysis while taking an introductory database-management course in her sophomore year. So she decided to specialize in artificial intelligence.
The education Zhao receives is also pragmatic. Zhao and her team members are required to develop an application like professionals every semester.
"We have a lot of such hands-on experience in school," she says.
This helped her land an internship in major software-application firm SAP SE's machine-learning department.
Zhao says the employment rate in Singapore is high among international students-90 percent of her schoolmates can land a job with an average monthly salary of more than $2,500.
"In Singapore, all the university majors cater to the demands of the job market," says Zheng Yi, an overseas education consultant at EIC eduction in Beijing. "It's easy to find a local job after graduation."
Zheng adds that the country's low birthrate and increasing aging population also lead to high demand for foreign talent.
Despite Singapore's high housing and living costs, Zhao still recommends students studying in the country.
"The tuition fee here is reasonable," she says.
"If you are still working on your English-language proficiency, Singapore can be a springboard for studying in the West."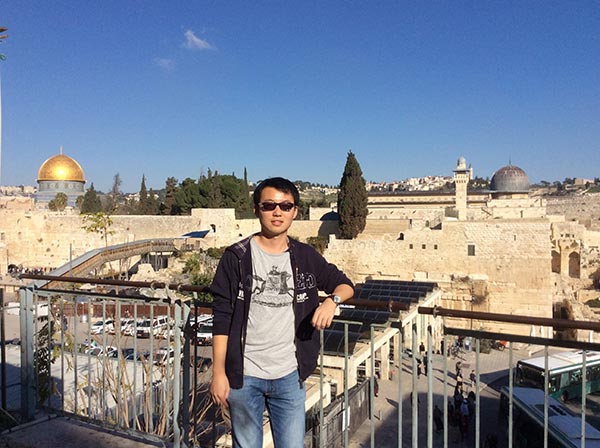 Ma Zhuang [Photo provided to China Daily]
Innovation harbor
Israel-unlike Singapore-traditionally is not a country where most Chinese students choose to study.
"It's largely because of safety concerns and its immigration policy-Israel is not an immigration destination for non-Jewish immigrants," says Wang Yu, director of the Institute of Hebrew and Jewish Studies at Peking University.
Its recent popularity among Chinese students is related to its innovative and entrepreneurial environment, and the closer academic ties, which include scholarships and exchange programs, between the two countries, she says.
"Chinese students will not only be able to adopt its rigorous academic approach but also acquire cutting-edge scientific knowledge" says Wang.
Shandong province native Ma Zhuang enrolled in Hebrew University of Jerusalem with full scholarship after graduating from Zhejiang University and decided to study 3-D printing.
"It's an innovative technology in the manufacturing sector that has a promising future," says the 25-year-old master's student.
Ma takes intensive courses related to computer vision, mechanical engineering and material science.
Last year, his professor offered him a chance to spend four months as a visiting student at a lab in Columbia University, where he wrote computer programs for a 3-D printing system.
"I worked with a leading professor in our field," he says. "It was inspirational."
In a bio-design class, he was asked to team up with students from other majors to conduct marketing research, draft business plans, and design and demonstrate products to the investors.
Cooperation between China and Israel driven by the Belt and Road Initiative has deepened in such areas as basic science, modern agriculture and clean energy.
Ma founded a consulting startup with an Israeli schoolmate.
"We connect Chinese investors with Israeli companies," says Ma.
"We also help Israeli companies to find potential Chinese partners and devise strategies to enter our market."
The company has established relationships with around 80 Israeli startups and received three Chinese delegations.
Picture_Article_image: